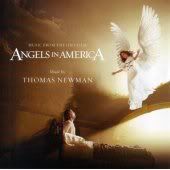 Sample clips montage (low-quality): "Main Titles", "Mauve Antarctica", "Bethesda Fountain"
"Angels in America" is a miniseries by HBO which is based on a play written by Tony Kushner. It revolves around the various relationships of a group of people during the AIDS crisis in the 1980s. Without explaining the plot, let me just say that it is indeed quite an odd show. This adjective is also commonly used by his critics to describe Thomas Newman's music – what a coincidence.
"Angels in America" seems like the perfect project for Newman. It is a drama at its core, but with quirky aspects to numerous scenes and characters. Thus, while Newman's dramatic side can shine, he also brings his more unique side (such as in "American Beauty") to the table, but on a larger scale, effortlessly merged with the orchestra. As a result the score is an effective showcase and introduction of Thomas Newman as a composer, and contains some of his most beautiful work ever. It remains my favorite Thomas Newman soundtrack.
I believe Thomas Newman won an emmy for the Six Feet Under theme, but it confuses me to no end that his work for "Angels in America" was overlooked. The main titles alone represents some of the greatest music ever to grace the small screen (or the big screen, now that I think of it). And boy, is it a stunning piece of music. This track combines the large orchestral ensemble with various Newmanisms, including light tapping percussion and enveloping guitars. The gorgeous melody is carried by the oboe and strings along with soaring brass and woodwinds. The melody itself mostly restricts itself to the main credits, though it appears once again in "The Mormons", played in a more intimate style by a violin and guitar.
However, Thomas Newman uses two other themes throughout the score, and both are quite beautiful. The first is introduced in "Ellis Island", a very serene melody carried first by the oboe. The second is introduced in "Ozone", a very elegant and pastoral theme which seems to represent the main characters, notably Prior Walter, and their ambitions or personal journeys. Both of them are among the best themes Newman has written, and Newman uses them generously compared to his other scores. One of my frequent complaints about Tom is that he creates wonderful melodies but only uses them in a total of two or three tracks. In this score, Newman doesn't quite use his themes as much as, say, John Williams might, but they are not under-represented.
The rest of the score is a mix of great music in many different styles of Newman's career. "Mauve Antarctica" is a playful dance of woodwinds, plucked strings, and oboe. "Bayeux Tapestry" is Newman's traditional crisp string writing. At various points in the soundtrack, things get fairly loud, vicious, and almost bombastic, which is surprising to hear from Newman. The final two (score) tracks alone are worth the price of the disc.These tracks fill the end credits (and closing scene of the film), and are full explorations of the two themes Newman had introduced earlier. "The Great Work Begins" gives us a satisfying realization of the "Ozone" theme with the full orchestra and choir. Then, the volume settles and female voices gently restate the "Ellis Island" theme in "Tropopause". Absolutely magnificent.
Is this score Newman's best work to date? I certainly think it is. Heck, even the author at filmtracks.com, who seems to have a negative predisposition towards Newman's attention to texture and underscore rather than overt leitmotif, gave it a perfect score. If this had been a motion picture, the score definitely would've earned him that Oscar that he deserves. If you're planning to introduce someone to Thomas Newman, this is definitely the score to do it with. 
No responses yet